The Marfan Foundation announced today that Isaiah Austin is the featured speaker at the Foundation's 31st Annual Family Conference in Chicago. Isaiah, a star basketball player at Baylor University, was projected to be a first round selection in the 2014 NBA draft, but had to stop playing competitive sports due to his Marfan syndrome diagnosis, which he announced one year ago today. The conference, co-hosted by Northwestern Medicine and Ann & Robert Lurie Children's Hospital of Chicago, is scheduled for August 6-9. Austin will speak at a reception at Navy Pier on Friday, August 7.
When Isaiah revealed that he had been diagnosed with Marfan syndrome, he thrust a little known but deadly condition into the national spotlight. Suddenly, the connective tissue disorder was grabbing headlines and people from all walks of life learned about the signs of the condition. For many, like 14-year-old Owen Gray, of Houston, this was life-saving as he was immediately diagnosed with Marfan syndrome and could begin treatment.
"When we saw NBA Commissioner Adam Silver make Isaiah a ceremonial pick at last year's draft, it struck me that my son had a lot of the same features as Isaiah, the features of Marfan. He's tall and lanky, with long arms and legs. He also has eye issues," said Owen's father, Rod Gray. "I brought Owen to the doctor the day after the draft and the diagnosis was made. I am so grateful to Isaiah because he saved my son's life."
And Owen isn't the only one whose life was saved. A Facebook fan told the Foundation:
My husband saw an article about Isaiah and said, "I think this is what your little brother has." I called my parents and told them about it. Yup! It probably saved his life and the lives of three of his seven kids, so far. Thank you, Isaiah!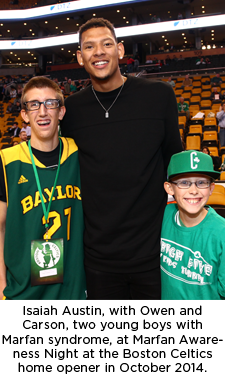 Marfan syndrome is a genetic disorder that affects the body's connective tissue. Some features of Marfan syndrome are easier to see than others. These include long arms, legs and fingers; tall and thin body type; curved spine; chest sinks in or sticks out; flexible joints; flat feet; crowded teeth; and stretch marks on the skin that are not related to weight gain or loss. Harder-to-detect signs of Marfan syndrome include sudden lung collapse and eye problems, as well as heart problems, especially those related to the aorta, the large blood vessel that carries blood away from the heart to the rest of the body. Without a diagnosis and treatment, the aorta can enlarge and tear or rupture, which can be fatal.
Isaiah's impact at the Foundation was felt immediately after he announced his diagnosis. In May 2014, there were 65,000 hits to the Foundation website, Marfan.org; in June 2014, there were nearly half a million website hits. Since then, every time Isaiah is in the news, hits to the Foundation website spike. The nurse who staffs the Foundation's help center also reports that the number of inquiries by phone and email doubled in the month after Isaiah announced his diagnosis.
"Our entire community is inspired by Isaiah's positive attitude, despite having to change the course of his life due to his diagnosis," said Michael Weamer, President and CEO, The Marfan Foundation. "He is a role model for people with Marfan and related disorders and has particularly touched our youngest members. The way he has embraced the disorder and continues to pursue his dreams empowers our teens and children and gives them hope for the future."
More than 600 people, including 200 children and teens, are expected to attend the Foundation's Annual Family Conference. The event features general medical sessions and small-group workshops with medical experts on Marfan syndrome. In addition, people of all ages can also connect with others who are also on the same medical journey. Special programs are offered for children, teens, and young adults. There is also a Spanish-language track. Aetna is the presenting sponsor. Registration is still open for adults.
About Aetna
Aetna is one of the nation's leading diversified health care benefits companies, serving an estimated 46 million people with information and resources to help them make better informed decisions about their health care. Aetna offers a broad range of traditional, voluntary and consumer-directed health insurance products and related services, including medical, pharmacy, dental, behavioral health, group life and disability plans, and medical management capabilities, Medicaid health care management services, workers' compensation administrative services and health information technology products and services. Aetna's customers include employer groups, individuals, college students, part-time and hourly workers, health plans, health care providers, governmental units, government-sponsored plans, labor groups and expatriates. For more information, see www.aetna.com and learn about how Aetna is helping to build a healthier world. @AetnaNews
---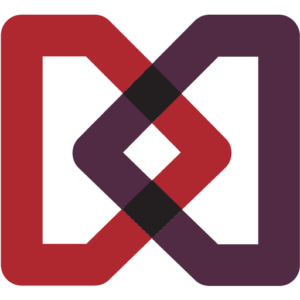 The Marfan Foundation saves lives and improves the quality of life of individuals with genetic aortic and vascular conditions including Marfan, Loeys-Dietz, and Vascular Ehlers-Danlos syndromes.
---