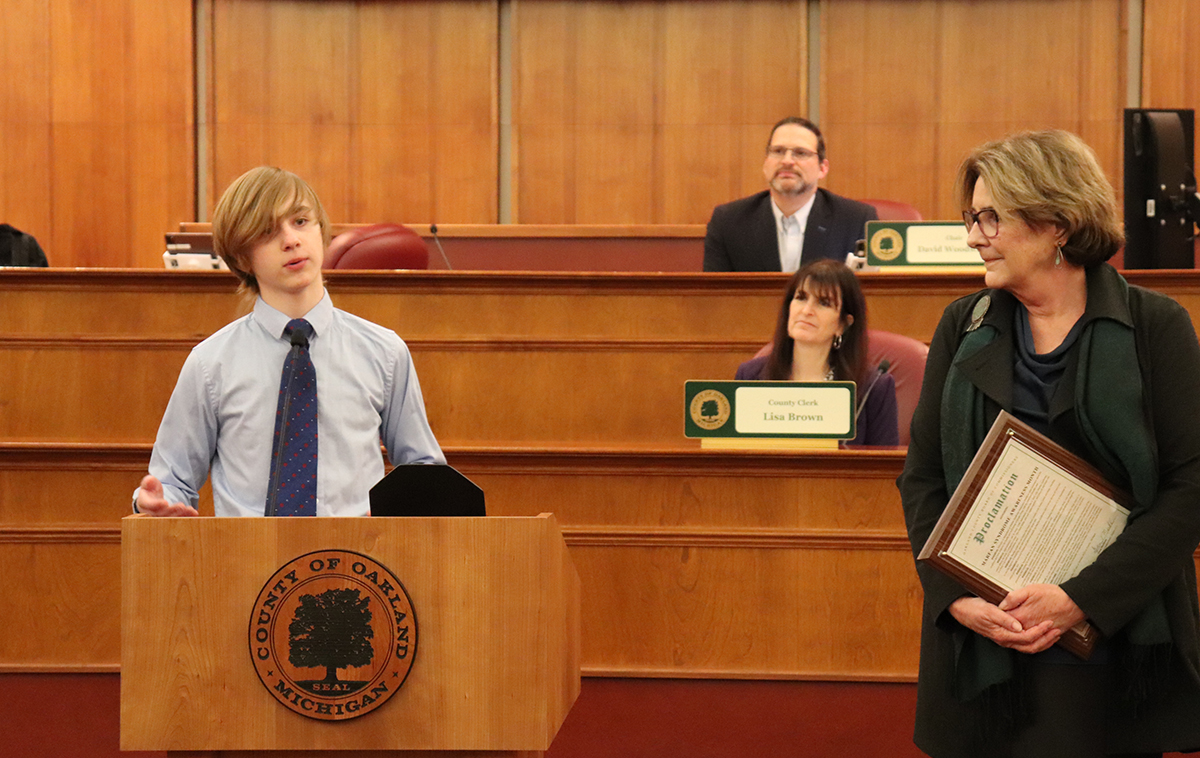 A Marfan Awareness Month Blog
Photo: In January, Christopher was presented with a proclamation from Oakland County Commissioner Gwen Markham.
Why are you passionate about spreading awareness about Marfan syndrome?
My little brother, Charlie, has Marfan syndrome. His condition changed quite a bit in 2022, and he needed open-heart surgery in December. Surgeries of this nature are always horrifying. Even though I was reassured by the professionals doing the surgery, one of the most fear-inducing things is a high-risk surgery for any loved one. I thought about this fact, and I came to realize how fortunate we are compared to millions of others who do not have access to the same doctors, information, and support. So, in late August through early September, I decided that I wanted to help those in similar situations.
How have you become involved with volunteering and fundraising?
As a random high school sophomore, it was weird to plan, but I had the passion and intention of raising as much money and awareness to assist those with Marfan syndrome in every possible way. This is when I contacted The Marfan Foundation, which has been of insurmountable assistance throughout. The plan was to host a fundraiser and, through some trial and tribulation, I eventually did plan the fundraiser at my school. Critical to this was truly two essential things: passion and outreach. With these two tools, every failure and setback was overcome, and the amount of support (and therefore awareness) was astonishing. Hundreds showed support, and we raised over $14,500 for The Marfan Foundation!
After the fundraiser, I decided to reach out to lawmakers, because I knew that there must be more ways to spread awareness. Over several months of requests and emails, I can finally say that the State of Michigan has proclaimed February 2023 as Marfan Syndrome Awareness Month, along with my county and city also creating proclamations. This has been incredible throughout, and I am touched and humbled by the kindness I have seen, though I know there is still work to be done, which is why I have been contacting schools around Michigan and asking educators if they would be willing to teach about Marfan syndrome.

What has propelled you to pledge to become more involved?
I genuinely love it, and I think all would. Being invested in any activity, be that some hobby, project, or even just a problem, captivates me and persuades me to follow it further. I know this is true for many and, especially when it comes to helping others, motivation comes from the impact (small or large). So, the impact fuels a passion and desire to help others in whatever ways I can (you meet awesome people too).

How do you plan to volunteer for future Marfan-related activities/events?
My journey has been incredible, and I have no plan to stop. A few things are on my list. I plan on going to the Walk for Victory hosted by the Foundation in my state. With the proclamation, I plan to contact various schools around my county and state to ask if educators would be able to make a mention of Marfan syndrome and the signs: teaching youth with the goal to spread awareness as much as I can.

What would you say to others who want to become involved but don't know where to start?
From doing little things that count like making online posts about Marfan syndrome to doing larger things like planning fundraisers or awareness events for your community, there are many approaches to helping, so it comes down to you. If you have a creative way to do something, like raise money through a school, then reach out to the Foundation for assistance, and then commit to achieving your goal! Honestly, I don't know if anyone knows where to start really until hopping headfirst into whatever it may be and receiving assistance from those familiar, as I did.
Anyone can have an impact. I can only imagine what others in so many different situations can do to help the world. In fact, throughout the past few months, I have noticed how many communities that could be reached out to that aren't. All of us are a part of different groups that we can spread strong messages to, and with passion and ambition to achieve some goal, then each of us is able to reach incredible feats.
To learn the many ways you can get involved, visit marfan.org/get-involved.
---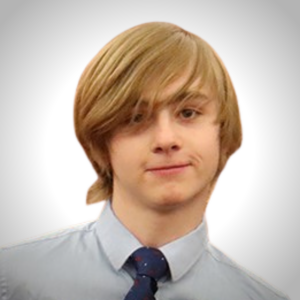 Christopher is a 16-year-old High School student from Michigan. On his school's row team, he loves the teamwork that comes along with the sport. Also a big fan of math and physics, he wants to pursue math as a future career path and currently is involved with his school's Aerospace club. Most importantly, he cherishes charity and wants to engage with anything that can help others.
---