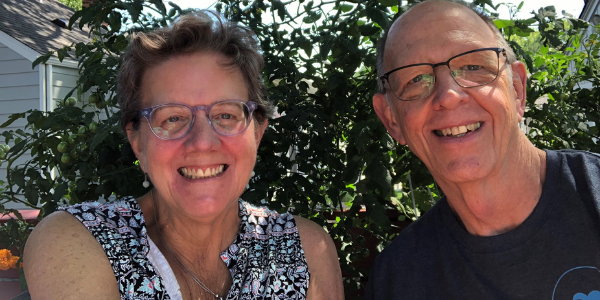 On a crisp day in 2010, Pam Moultrup entered the hospital. She checked in at the reception desk and completed a sprinkle of paperwork, then went with her loving and dedicated husband, Gary, to meet her doctor for her pre-surgery preparation for a scheduled knee surgery.
However, the doctor noticed several other suspicious features and ordered an echocardiogram to look at her heart and surrounding vessels. The doctor's astute decision potentially served as a lifesaver — an aortic aneurysm was discovered — and a mere five days later, Pam found herself in the hospital, not for a simple knee repair, but for open-heart surgery to prevent a potentially life-threatening aortic dissection or rupture.
Although Pam's medical team, her doctor, and her surgeon were responsible for her medical victories, one notable, compassionately selfless individual remained mostly behind the scenes, but a positive force that powered Pam through her medical journey — her husband, Gary. He was motivated to research his wife's condition on the internet and, after several weeks of reading various websites, he believed that Marfan syndrome was the potential cause of Pam's medical issues. Four years later, in 2014, Gary encouraged his wife to attend The Marfan Foundation's Annual Conference in Baltimore to get answers.
At the conference, Pam was able to visit the health fair the Foundation offers so that people can meet with world experts to discuss their diagnosis and treatment. Fortunately for Pam, at the health fair, she found herself facing world-renowned genetic researcher Dr. Hal Dietz, who is a long-time member of the Foundation's Professional Advisory Board. After discussing Pam's case, Gary presented his theory that Pam was affected by Marfan syndrome. He wasn't far off the mark. Dr. Dietz told the pair that she most likely had Loeys-Dietz syndrome (LDS), which he and a colleague, Dr. Bart Loeys, had identified less than ten years earlier.
Back at Pam's home clinic, Beaumont Hospital, nobody had heard of the relatively new condition, which Gary and Pam found strange and potentially dangerous for others who may have similar features and would not be able to gain a proper diagnosis or treatment. The power couple, who had already connected with the Detroit Marfan Community Group, decided they needed to take action locally and get more involved.
The pair, who had created a crowd-funding campaign so they could attend the Baltimore conference, decided to commit the extra money donated to the campaign to the local community group.
The Detroit Marfan Community Group, initiated in 2005 and spearheaded by Dr. Li Li, a bubbly, enthusiastic Professor of Molecular Medicine and Genetics and Internal Medicine at Wayne State University who is herself affected by Marfan, was a safe space for everyone with Marfan, Loeys-Dietz, or another connective tissue condition to interact with others who have these conditions.
Gary, while not personally diagnosed, contributed to the group by taking the lead in arranging guest speakers, including medical experts from the University of Michigan and Cleveland Clinic.
As the COVID-19 pandemic (hopefully) winds down, Gary, Pam, Dr. Li, and the other active participants in the group have many goals in mind — restarting in-person meetings, bringing in more medical speakers, and setting up an awareness table at Beaumont Hospital.
Married for 48 years, Gary and Pam have experienced a roller coaster of a journey, and despite Pam's LDS diagnosis, the couple's energetic spirit always results in many more highs than lows. They have advice for others new to the connective tissue world.
"Let your friends, families, and employers know about your condition so there's no confusion or miscommunication," recommended Pam
Moreover, Gary, who had originally consulted the internet about Pam's mystery condition, acknowledges the limitations of that effort.
"The internet can scare and traumatize you with statistics, but there's a way to live, cope, and still develop yourself," said Gary, who stays active with the local community group by responding to emails from new members of the connective tissue community to aid them in their journey and provide them factual, relevant information from The Marfan Foundation.
To these two connective tissue veterans, medical conditions may have scared them in the past, but their everlasting dedication to each other and their support systems enable this power couple to persevere. They've not only sustained successful careers but have also immensely enjoyed their family.
Pam and Gary's story demonstrates the importance of persistence and commitment – to each other and to the community that supports them. And they wouldn't have it any other way.
***
The Marfan Foundation offers a variety of ways to connect with the community through virtual support groups and events. If you'd like to get involved in one of the Foundation's volunteer teams, please email us at volunteer@marfan.org.
---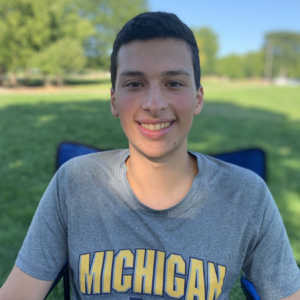 Mehmet Tascioglu is a 12th grader interested in the medical field and has a passion for biomedical research. He attends Northville High School, in Northville, MI, where he leads various clubs and organizations. He enjoys working with The Marfan Foundation and blogging because he wants to make a positive impact on the lives of people affected with Marfan and related conditions, and has a goal of becoming a cardiothoracic surgeon as an adult.
---