When my younger daughter Cassie turned one almost six years ago, I thought we'd ended the craziest year of her life. But this past year is definitely in the running. And I'm sharing our story during this year's Research and Progress Drive because, more than ever, I see how important the work that we all support through The Marfan Foundation is in my family's life.
Cassie was diagnosed with Marfan syndrome at birth, thanks in part to The Marfan Foundation's early diagnosis initiative, and the following months involved weekly visits with each of her 11 specialists. The care Cassie received was incredible — very thorough and attentive — and she thrived. I contacted The Marfan Foundation when she was just six weeks old – and they have been a source of information and support ever since.
Over the next five years, Cassie's doctors' appointments were kept to her pediatrician and her three major specialists — cardiologist, orthopedist, and ophthalmologist. Her heart was monitored by echos every four months and her aorta was kept in check with medication. She wore ankle braces and had a back brace for a time. And she has worn glasses since she was 5 months old. Things were busy, but manageable.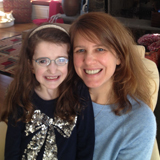 Then, in 2013, Cassie had her first two surgeries, and they were both big ones.
In March, her mitral valve was repaired, and in August, metal rods were placed along her spine. Both of these surgeries were at Johns Hopkins with surgeons who are very involved with The Marfan Foundation and the Marfan community. The advances in surgical procedures and knowledge about how they affect patients with Marfan syndrome are extraordinary and we are so lucky that Cassie could benefit from them.
We received such an outpouring of support from the Marfan community and Foundation staff during the last year.
My Marf mom friends whose kids had already been through one or both of these surgeries gave me so many tips on things like which meds were best for pain control, what to bring to the hospital (for me and for Cassie), where to get the best latte near the hospital, and where to stay. They also told me what I could expect Cassie's recovery to be like and helped me understand what was normal pain and what wasn't. One mom's advice led me to ask Cassie's school district for a one-on-one classroom aide upon her return to school, which we received.
Other friends from the Marfan community called, texted, emailed, and posted on Facebook wonderful messages of support. The Marfan Foundation helped put me in touch with so many caring parents going through the same things my husband and I were going through, and the comfort, advice, and support we received from that community impacted us greatly.
The Marfan community means the world to me, truly, and I am so very thankful for everyone in it. I want my Marfan family to live long, happy, healthy lives. That's why I am doing what I can for the Foundation's 2013 Research & Progress Appeal. If you can help, I hope you will, too.
Support the Research & Progress Appeal
If you are reading this, you too are a part of the Marfan community that helped Alix through some tough times. Have you ever received support from the community while going through a tough time? How so?
---

Alix who lives in Madison, NJ, is a member of The Marfan Foundation's Board of Directors. Her daughter, Cassie, was diagnosed with Marfan syndrome in 2007.
---