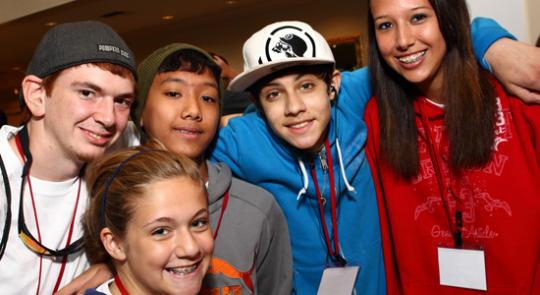 In the 1970s, the life expectancy for someone with Marfan syndrome was in the 40s. Less than thirty years later, due to early diagnosis, new medications, and advances in surgery, the life expectancy for people with Marfan syndrome was in the 70s, nearing the life expectancy of the general population.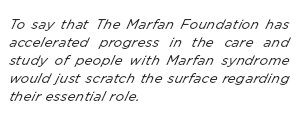 In the past decade, research has accelerated even faster, giving our community real hope for a medication that may prevent aortic enlargement, the life-threatening part of Marfan syndrome, and a potential blood test that could predict who is at risk for aortic problems. The December 3 issue of the New York Times put the focus on these recent research breakthroughs that offer our community hope.
It is gratifying to see such progress, yet we know there is so much more to be done. By highlighting the ground-breaking work by Drs. Dietz, Sakai, LeMaire, and their colleagues, the Times coverage gives us recognition and a spot on the national stage. We have much to be proud of, but we are not there yet. We must continue our relentless pursuit of Marfan syndrome and related disorders research so that life-threatening issues related to the heart and blood vessels can be eliminated and quality of life, which is impacted by lung, eye, and skeletal problems, can be improved.
What we have accomplished to date – with the collaboration of the research community and the support of the Marfan syndrome and related disorders community – is remarkable.
Here's what the researchers say:
The research studies described in the New York Times article illustrate the critical importance of long-term, collaborative efforts by teams of investigators from different disciplines and multiple institutions. This type of highly focused research is essential in the fight against life-threatening aortic disease, and would not be possible without funding from The Marfan Foundation and the community it represents.
Scott LeMaire, MD
Professor of Surgery and of Molecular Physiology and Biophysics
Vice Chair for Research, Michael E. DeBakey Department of Surgery
Director of Research, Division of Cardiothoracic Surgery
Cardiovascular Research Institute
Baylor College of Medicine
The Marfan Foundation provided both the inspiration and the critical initial support for the development of our blood test. By supporting new ideas and taking risks on research, the Foundation works for a brighter future for the entire Marfan community.
Lynn Y. Sakai, PhD
Senior Investigator
Shriners Hospital for Children
The Marfan Foundation has been a critical partner in promoting Marfan syndrome awareness for both patients and medical professionals, in the launch of clinical trials and in the funding of medical research. To say that The Marfan Foundation has accelerated progress in the care and study of people with Marfan syndrome would just scratch the surface regarding their essential role.
Hal Dietz, MD
Victor A. McKusick Professor of Medicine and Genetics
Investigator, Howard Hughes Medical Institute
Director, William S. Smilow Center for Marfan Syndrome Research
Institute of Genetic Medicine
Departments of Pediatrics, Medicine, and Molecular Biology & Genetics
Johns Hopkins University School of Medicine
We are more committed than ever to our strategies for expanding our research grant program, supporting scientific collaborations and symposia, compiling data in registries, and making sure research advances reach our patient community. Please make a tax-deductible donation to help us achieve victory over Marfan syndrome and related disorders.
---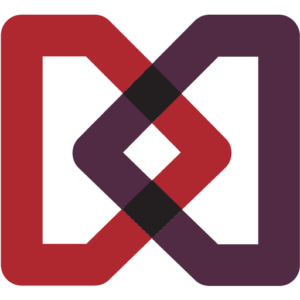 The Marfan Foundation is a nonprofit organization that saves lives and improves the quality of life of individuals with genetic aortic and vascular conditions including Marfan, Loeys-Dietz, and Vascular Ehlers-Danlos syndromes. Our vision is a world in which everyone with genetic aortic and vascular conditions can live their best life.
---