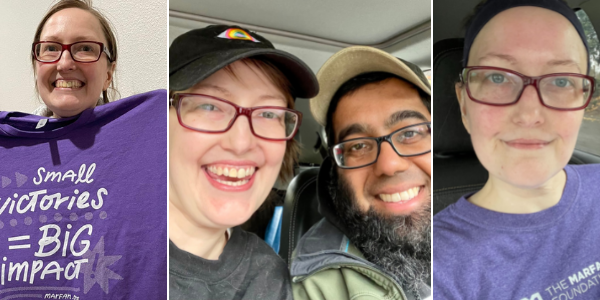 Helping Others Helps Me
I share because I care. It sounds simple, but it is so true. There are so many in our community, and I feel grounded and connected with them and cherish the relationships I have built over the years. Our struggles and obstacles have deep meaning, and sharing helps create that connection. I enjoy creating new ways to inspire and bring us together on social media platforms like Facebook and Instagram. I also strive to create awareness beyond the community to others who may not be aware of Marfan syndrome.
Sharing is also a way for me to process my emotions at that time. I can be struggling with a particular issue but realize I am not alone; there are others who are like me and support me in the good times and bad. We are all in it together, and knowing that provides a level of comfort.
The best part of social media is receiving feedback on the posts. The comments provide reassurance that there are many like me and that I am helping others. I have had people find me through online research, even from other countries, and reach out for information. Getting these types of messages affirms that my posts are reaching people who are seeking to understand more about Marfan syndrome. Every time I receive a message to one of my social accounts either asking me questions or telling me their story, I feel like I'm truly doing my part to help raise awareness.
I also get inspired by others who post about Marfan syndrome. I like to share their stories on my pages in the hopes that they will have an impactful reach. Their story may not mirror my story, but it may speak to someone else. I follow and share posts from many in our community, including Kendra DePinto (@kendrawesomeness) on Instagram and Linzy Brown (Linzy723) on Facebook, who just got Marfan Awareness Month proclaimed for the second time in her state. I also follow and share many of the posts from The Marfan Foundation. It may not seem like much, but I always try to share any event, webinar, or educational piece from the Foundation, even if it doesn't pertain to me specifically, because it may reach someone else who needs the information.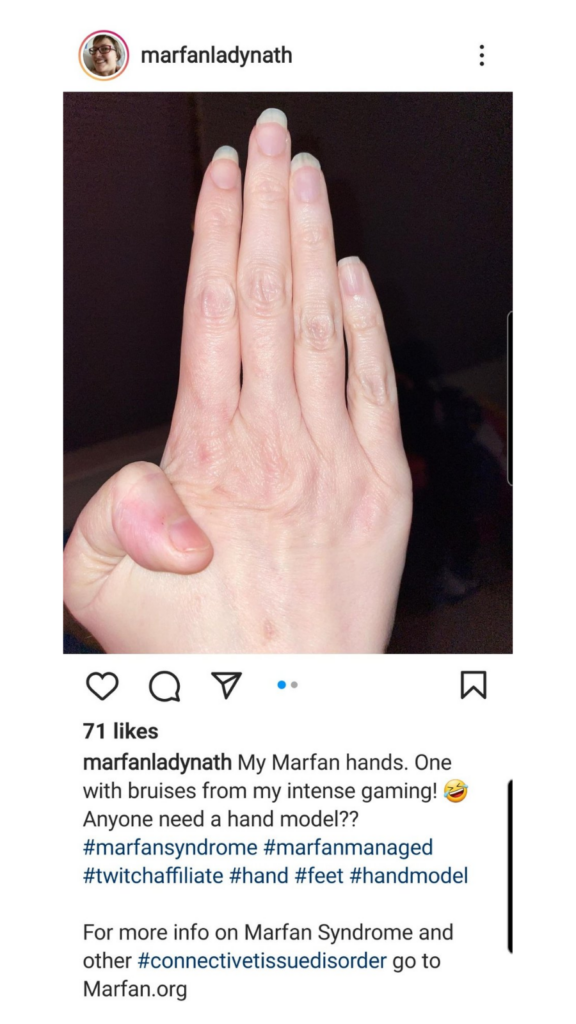 Awareness Saves Lives
The importance of raising awareness is the simplest answer – it's about the lives it saves. The more people are aware of Marfan and other connective tissue conditions, the more lives we can save. Awareness is never losing someone unexpectedly to Marfan syndrome because they or their loved ones did not know about it.
Unfortunately, I didn't find out about Marfan until I was being wheeled into open-heart surgery in 2006. My aorta had dissected, but luckily, the medical team knew I likely had Marfan syndrome. My parents searched for answers and help and found The Marfan Foundation. A year after my surgery, my parents and I attended the Foundation conference. We wanted to become more educated and informed about the condition and learn how Marfan was going to affect my life. At the conference, I was clinically diagnosed with Marfan syndrome by a team of experts.
I didn't know I had it, but my mission is to help raise awareness so others do.
It's All in the Name
I am more of an introvert, and I don't outwardly talk about Marfan unless I am asked. But my Instagram and Twitch names include Marfan. Some people will ask me what the name means, while others know what it means and ask me to let the others in the group know. When someone asks, I am always willing to share. Marfan is part of my identity, and using it in my profile names opens the door for people to ask.
Getting Involved to Raise Awareness
As I got older, I wanted to get more involved with the Foundation and help spread awareness about Marfan syndrome. The first step I took to get involved was joining the volunteer committee. There are so many ways to get involved with the Foundation, but my favorite is the Walk for Victory. In 2017, the Foundation started a walk in Portland, and I was excited to start a fundraising team. Since then, I have had a team named Marfan Managed, and each year, I strive to raise more and challenge myself. I enjoy the Walk for Victory because it makes a big impact in the Portland area, and it's a way for me to help others who are seeking help from The Marfan Foundation. Knowing that I am contributing financially to the Foundation's mission brings me a sense of pride and great accomplishment.
Before becoming involved, I didn't know anyone who had Marfan. Now, I know several people in my area. We stay connected socially and online. Building trust and vulnerability with the community to share what we are going through helps others. When it comes to challenges or obstacles in the Marfan community, that is something we can connect on. We are not all the same, but we can relate. If I haven't gone through something specifically, someone else has. Everyone's immediate circle is different, and sharing helps to spread the word. Maybe sharing those pieces will help lead others to a diagnosis or help them through their Marfan process.
Want to get involved with the Marfan community? Find out the many ways at Get Involved – Marfan Foundation.
---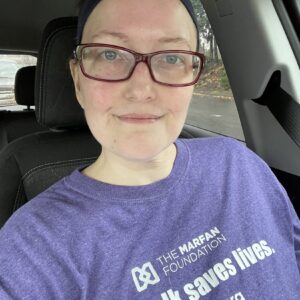 Christy Nath lives in Portland, OR, with her husband, Rahil, and her dog, Adora, and three cats, Toothless, Severus, and Albus. She enjoys live music with friends and is currently volunteering with the social media team at The Marfan Foundation. Instagram: @Marfanladynath, Facebook: @christy.fuerbringer, Twitch @MarfanLadyNath
---