The Marfan Foundation announced that, starting today, it is making a new app available for free to people with Marfan and related disorders – and their families – to securely manage their medical records.
The app, developed by Backpack Health, LLC, offers a dynamic personal health records tool that works on any device to make information manageable, shareable, portable, and even translatable. It was designed specifically for those living with complex, rare, and chronic conditions. It is a free download.
In conjunction with the app, the two organizations are launching the first-ever Marfan and Related Disorders International Patient Registry, which leverages the power of de-identified, aggregated data to conduct studies to advance the understanding of Marfan syndrome and related disorders.
Here are some of the frequently asked questions about the new offerings to better equip you to take advantage of these opportunities.
---
What is Backpack Health?
Backpack Health is a service that helps people better organize and manage their health details and share them with the people who need to know. Backpack Health is available for web, iOS, and Android, making it easy for everyone to access, own, and manage their health information to support better health for themselves, their loved ones, and their communities. And, it can be used on any device and in sixdifferent languages. Backpack Health also provides a platform for organizations like The Marfan Foundation to provide a valuable service to people with medical conditions, safely and securely collect up-to-date data — from those who consent — to advance research, and build communities around the globe.
What is the cost to me?
There is no cost. The Backpack Health app is free to download.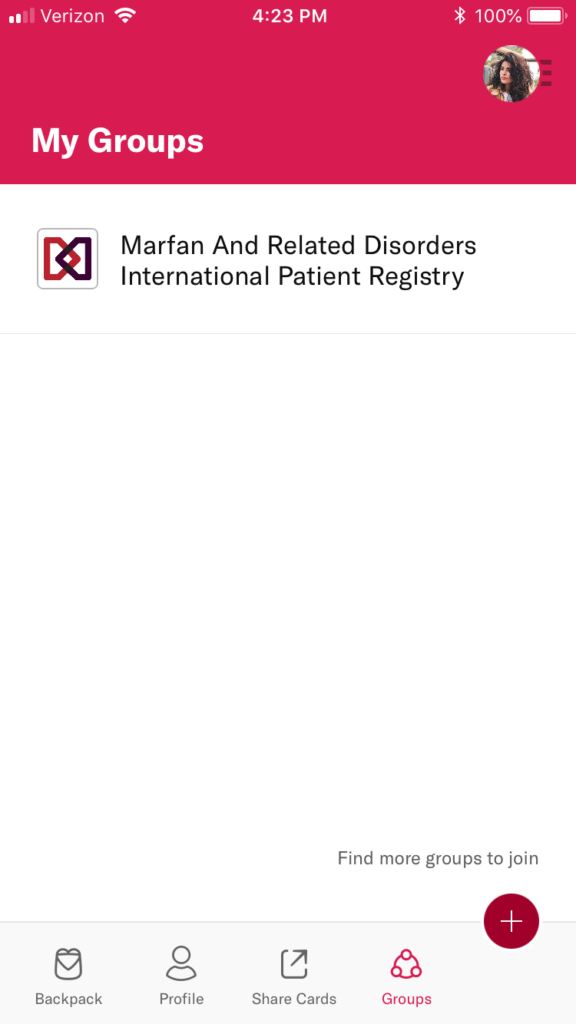 How can Backpack Health help my family and me?
Backpack Health PRO allows you to collect and manage you and your loved ones' health information in one secure place. The app was designed specifically to help people with chronic or complex conditions keep track of their health and keep everyone informed. With Backpack Health, you can manage health details, upload and store medical documents, such as clinical reports, photos, videos, etc., and select the information you want to share securely with those who need to know. Backpack Health even allows you to translate your health information on the go, without an internet connection.  
How do I access the part of Backpack Health that is customized for Marfan and related disorders?
We have partnered with Backpack Health to provide a customized experience for people with Marfan or a related condition who join our group. Our group is called the Marfan and Related Disorders International Patient Registry.
You can use this link to sign up for Backpack Health and join the Marfan and Related Disorders International Patient Registry: join.backpackhealth.com/marfanrelateddisordersregistry
If you're already using Backpack and just want to access and join the Registry, you can navigate to "Groups" at the bottom of your Backpack home screen and then search for "Marfan."
How do I join the registry for my child who has Marfan or a related disorder, even if I don't?
Anyone who has Marfan or many of the related disorders can join the Marfan and Related Disorders International Patient Registry. If you'd like your child to be part of the group, you'll need to sign up for Backpack Health yourself; then you can create a profile within your Backpack for your child (or children). You can have as many profiles in your Backpack as you need. If you and your child (or children) have Marfan or a related disorder, you'll need to join the Registry for each person. Create additional profiles in your Backpack by tapping or clicking on your initials or profile picture. Then, once you have created all the profiles you need, you can navigate to each person's Backpack and go through the steps for each to join the group.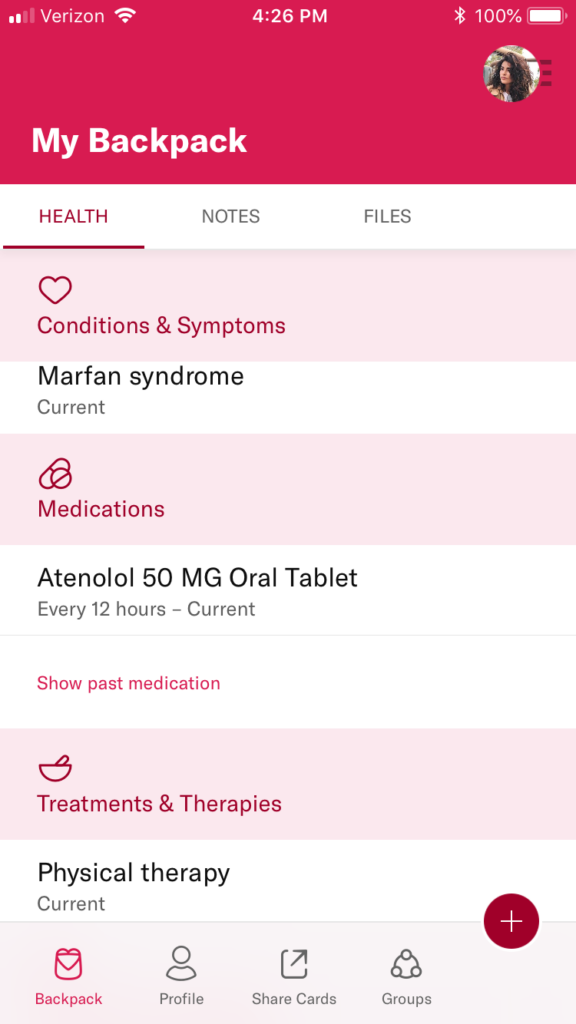 Can I use Backpack Health or be part of the Marfan and Related Disorders International Registry on Backpack Health without consenting to share information for research?
Anyone can use Backpack Health; all users of Backpack Health agree to having their health information de-identified (meaning, not linked to them in any way) and aggregated (meaning, put together with a lot of other data) for research. See Backpack Terms and Privacy for more detail. People who join the The Marfan and Related Disorders International Patient Registry on Backpack Health also consent to having their data de-identified and aggregated for ongoing research to improve the lives of people with Marfan and related disorders.
I have profiles for dependent children in my Backpack who aren't affected by Marfan. Is their data included in the Registry?
People who do not have Marfan or a related disorder cannot be part of the Registry, but their health data can be used by Backpack (again, in a de-identified, aggregated way) for research. Only people with Marfan or a related disorder can join the Registry.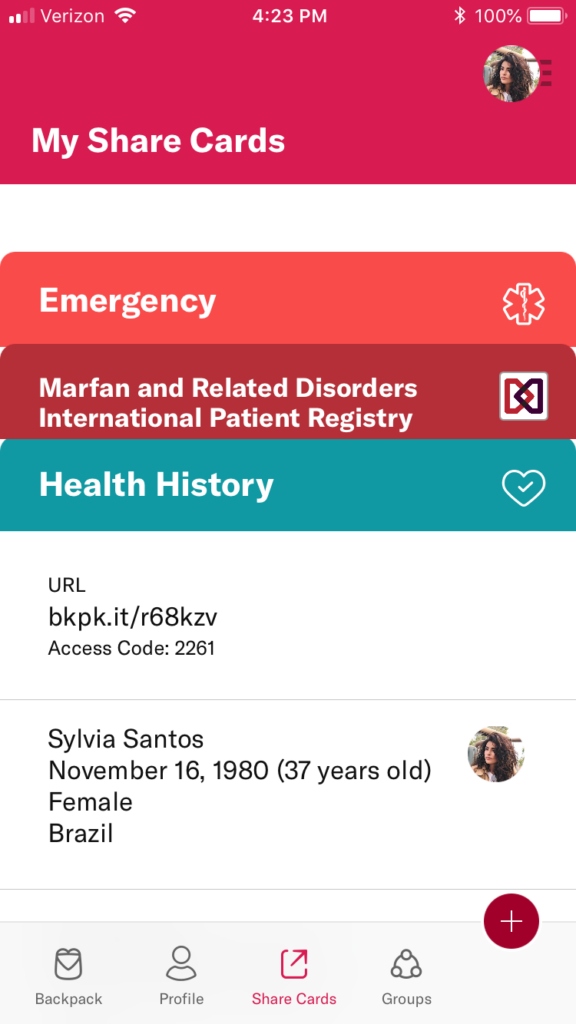 Backpack Health gives you the freedom to choose what information gets shared with whom. Backpack Health comes with two Share Cards – an Emergency Share Card and a Health History Share Card.
And, you can add as many custom Share Cards as you like – one for the school or daycare, another for a physical therapist, etc. Share Cards allow you to choose the information you want to share and the people with whom you want to share it.
When you join the Marfan and Related Disorders International Patient Registry, you also get a Share Card specific to the Registry. None of your identifying information is included in that Share Card, and that card does not have a shareable URL. The health information included on that card is what gets shared with the Registry administrators for research. You can edit that Card, or any of your Share Cards, at any time. With any Share Cards, you can always see exactly what info is being shared with whom.The selected health information included on a Share Card can be shared via PDF in a text or email, or even using a secure URL with the most up-to-date details. The unique URL for each Share Card can also be printed for your wallet, added to a piece of emergency jewelry like a bracelet, or stored in your phone's Medical ID so that vital health information is available in an emergency. Backpack Health makes it easy to get the right information to the right people, whether it's another family member, a new doctor, a school nurse, babysitter, or emergency personnel.
Is the app private and secure?
Backpack Health takes data privacy and security very seriously. You can read more about that in their Help Center.
Who has access to the information in the Marfan and Related Disorders International Patient Registry?
Only administrators of the Marfan and Related Disorders International Patient Registry have access to group data. All data in the Registry is de-identified (not linked to any personally identifying information) and aggregated (combined with all other Registry members). Other members of the Registry do not have access to any of your information shared in Backpack Health.
What happens to my information if I do not want to be part of the Marfan and Related Disorders International Patient Registry any longer?
When you leave the Registry, the Registry no longer has access to your ongoing data. Any data that has been de-identified, aggregated, and shared with the Registry in research prior to your leaving stays with the Registry. You can keep using Backpack Health even if you aren't connected to the Registry, but you will lose complimentary PRO access. You will need to provide payment to maintain access to features such as file storage, translation, and Share Card URLs.
How do I make sure that I'm sharing the right info with the Registry?
Whether you've joined the Registry for yourself or a loved one, here are some tips for making sure you're including information that will help researchers.
Make sure the profile information is complete by selecting your profile in the bottom menu – you can add your race/ethnicity and blood type (if you know it).
Add your primary diagnosis (or your loved one's diagnosis) to the Backpack under conditions and symptoms.
Add any features (conditions or symptoms) specific to the diagnosis. Be sure to include start dates and end dates, if applicable. You can add files that are relevant, such as imaging files or doctor notes.
Instead of adding a lot of files that are unattached, we recommend creating health entries for them and attaching the files to specific health entries. You'll still be able to see a list of all of your files (attached or unattached) in the Files section of the app. The reason for this is that you can't share files with the Registry (because of privacy) but you can share health entries. So, for instance, if you want to add your echocardiogram report to your Backpack, create a health entry for "echocardiogram" under Procedures and attach the file there.
Continue to add to your Backpack by including surgeries, medications, allergies, labs, measurements, and anything else that's important to your condition.
In the Marfan and Related Disorders Registry Share Card, you'll see all of the info that's available for sharing with the Marfan Registry. It will include all of your health entries, to make it easy for you, but you can always deselect any information you do not want to share.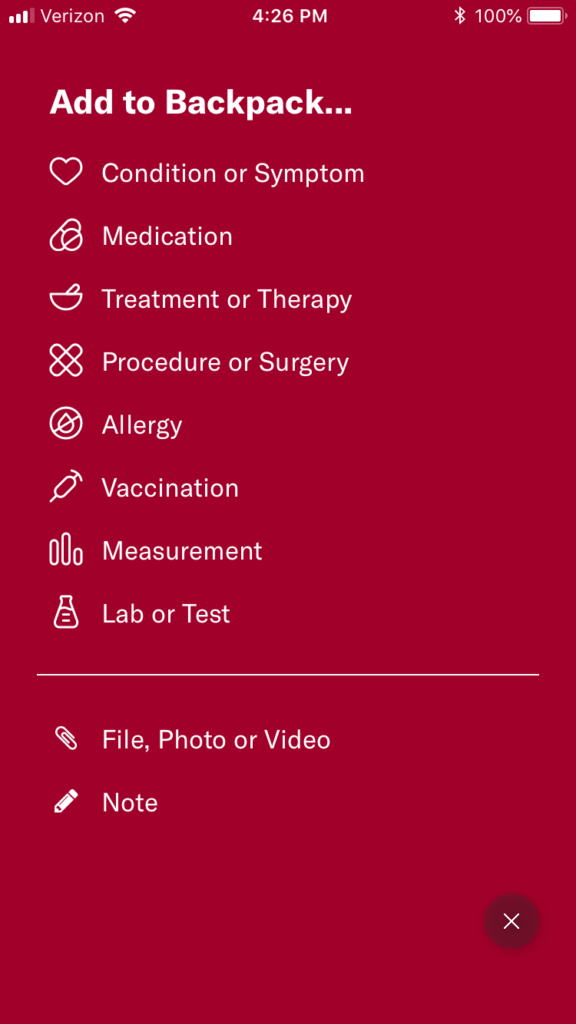 How can I get support or help with the Backpack Health App?
The Backpack Health team is happy to help, email them at help@backpackhealth.com or chat directly from within the app by tapping or clicking on your initials/profile picture and selecting "Contact Us." You can get answers to questions about the app in the Backpack Health Help Center.
---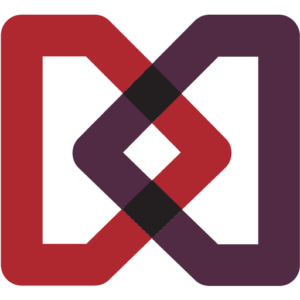 The Marfan Foundation saves lives and improves the quality of life of individuals with genetic aortic and vascular conditions including Marfan, Loeys-Dietz, and Vascular Ehlers-Danlos syndromes.
---