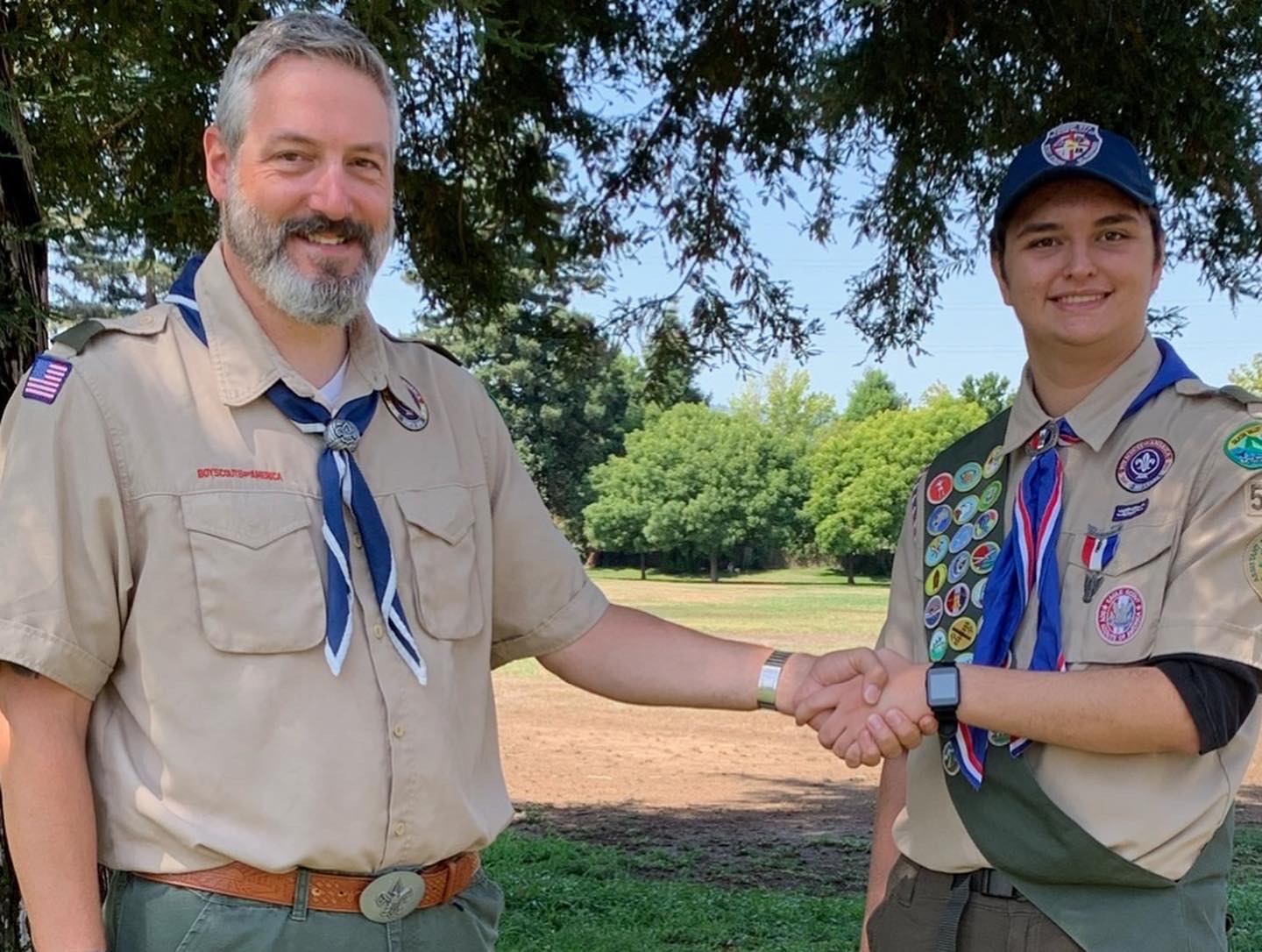 Jonathan Brink, an 18-year-old who attends Branham High School in California and is a Boy Scout in San Jose's Troop 577, recently achieved the rank of Eagle Scout. For those who know Scouting, this is quite the achievement, but what makes Jonathan really special was his next act of graciousness.
Traditionally, scouts use any remaining money in their scouting accounts that they've earned over their years as a scout to host a Court of Honor to celebrate this great accomplishment. Jonathan reached out to Keith Metz, his Troop's Scout Master (pictured with Jonathan above), and asked if he could contribute this money to the Loeys-Dietz Foundation in Connor Metz's name, his friend and our beloved son who passed from undiagnosed Loeys-Dietz exactly a year ago today, December 3, 2020. Jonathan's parents then offered to match his contribution resulting in a $650 contribution in Connor's name to help other families affected by this disorder.
Jonathan's reason for this donation was simple.
"I was struck that, one week, Connor was present and active in scouts and the next week he was just gone," said Jonathan, who remembers Connor, a 13-year-old, as the Narwahl patrol scribe helping to keep the patrol on task, but in a witty and funny way.
Jonathan fondly recalled Connor's quick wit and passion for all that was Scouting. We spoke about how Connor's death was preventable, and with increased awareness, increased testing, and the development of pediatric programs, there is hope for other children like Connor to have a better outcome.
We awarded Jonathan with a "Connor's Big Heart" gift box from the Metz Family, a Loeys-Dietz ceramic heart dish, on behalf of the LDS Foundation, and a Marfan Walk for Victory t-shirt, on behalf of The Marfan Foundation. We talked about the importance of grassroots education and Jonathan's family asked to be included in future Walks for Victory and other efforts to spread awareness.
Jonathan's donations were so special and made for such a touching day. Acts like this, and the promise of change, give the loss of Connor a higher meaning and bring hope to the larger LDS community.
***
If you'd like to add to Jonathan's contribution, please make a donation to the Northern California Walk for Victory through Connor's Big Heart.
---

Bridget Porter (Metz), who resides in San Jose, CA, is married to Keith Metz, and is the proud mom of Nicholas and Connor Metz. The Metz family is active in the community with a special focus on Scouting and team sports. Bridget is a Global Account Director for RR Donnelley, so her boys have been very involved locally, but also benefit from having many friends around the globe, especially in China.
---