During National Nurses Week, I would like to honor the wonderful men and women who serve tirelessly without much recognition. Several of them were such a help and inspiration when my husband Ted Ponder had surgery in 1989 because of his Marfan syndrome.
It happened on a beautiful Sunday morning in June when we were getting ready for church. As my husband Ted walked down the hall to breakfast, he fell backwards flat on the floor. Running to him, I learned he'd had a severe, stabbing pain in his back that knocked him down. With a neighbor watching our children, we went to the Fordyce hospital where our doctor examined him. Knowing about Ted's Marfan syndrome, he said to get to Little Rock pronto. Ted was sure he only had a sprained back; but we rushed to Saint Vincent's anyway.
When the cardiologists realized my husband had had an aortic dissection, they planned to fly him to Houston where the surgery he needed could be done. Though I could ride with Ted on the plane, I had to care for my two kids. I was very upset because my hubby was leaving without me. However, the nurse who would fly with him was very kind; she comforted me by saying that she would watch him every second to make sure that nothing went wrong. Hearing she had done this many times helped me to relax and put Ted in her capable hands.
After my parents and I took the children to stay with family, we decided to drive to Houston. During the drive, we had no way of knowing how Ted's surgery had gone. Was he still alive? Had he passed away? We were beside ourselves with worry. Cell phones were uncommon, so we couldn't call to check on him. I tried to make a long-distance call and charge it to my home phone, but it wasn't allowed in Texas unless someone at home could give approval. How frustrating-no one was at home! After the sun came up, I finally charged the call to my sister's phone and reached Methodist Hospital. The nurse who answered heard my extremely upset voice and kindly tried to calm me down. With many assurances, she informed me that Ted was just fine; and his leg was nice and pink. I didn't know his leg was in danger but was so thankful the nurse took the time to give me the good news. She advised us to relax and drive on into Houston calmly and she assured us that she'd take good care of my hubby.
When we arrived at the hospital, we saw Ted in the ICU for a few minutes and then needed a place to stay. Again a nurse was there to help us. We were happy when she told us of a nearby place that often took care of patients' families. At this pint, Ted was in the ICU and, again, the nurses were astonishing.  They took care of several very ill patients with their knowledge and experience.  One night, when I was particularly upset about Ted's condition, a nurse saw my distress.  She came over and told me that she would let me come in later that night to check on him. Visiting hours would be over, but she okayed it since she knew it would help me feel much better.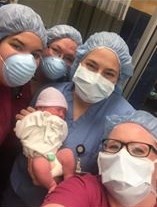 These nurses were not just kind and comforting. Like all nurses, they worked VERY hard. Their job is often indelicate, but they do it efficiently with respect so that patients do not feel embarrassed. After they took meticulous care of the ICU patients, they made careful chart notes about it in giant notebooks. With no computers, what they wrote in such detail was often important in life or death situations.
One other nurse was memorable during our experience in Houston because she was willing to stand up to authority for the good of the patient. When we were worried about Ted's rising blood pressure, she realized that it was too high and decided to call his surgeon. Upon arrival, he was very angry at the nurse for bothering him with a trivial problem. It certainly wasn't trivial to us, so the caring nurse risked her job for the good of my husband.
These nurses were pivotal in making our Marfan experience better under trying circumstances. They have a difficult job, yet they persevere and care for folks who truly need them.  One recently told me that she keeps a box with letters and cards from grateful patients. If she becomes discouraged with her job, she rereads them to remind herself of why she chose her field. I agree with her that it's a calling, not a career.  I believe that nurses cheerfully do God's work here on earth. Actually, I think they are earthly angels. Who else could so unselfishly help others?
---

Auburn Ponder Anderson is a retired Arkansas English teacher who enjoys writing, church work, and grandchildren. She learned about Marfan when her husband and two children were diagnosed.
---