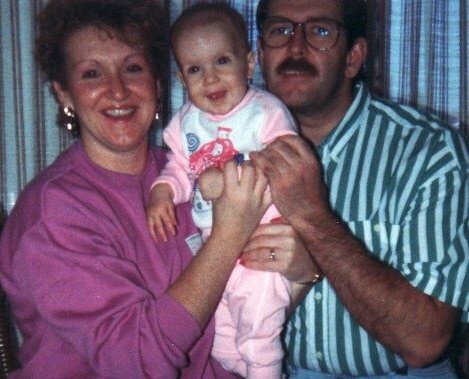 The month of February is extra important to me as it marks the month of the heart. I have been living with Marfan syndrome for 30 years; however, I've only been diagnosed for 22 years. I try every day to share my story and knowledge about the condition. The more we speak up, the more people we can be helping. Here is my story.
It was a snowy afternoon, I was in grade three and had not a worry in the world. There was a knock on the classroom door and there stood the secretary calling my name and asking me to gather my things; I was being picked up early for the day! Every kid's dream!
As I got into the warm van of my babysitter, she explained to me that my Mom and Dad were at the hospital because my Dad wasn't feeling well. We pulled into my driveway and I saw skinny wheel marks pressed into the freshly fallen snow. Some things in the house were out of place. Dad's gloves were on the stool; he really should have those with him, it's cold out, I thought. I packed my bag and we got back in the van to go to the emergency room of our local hospital. I remember holding onto June's hand as she guided me down bright hallways and through big doors. Some of my family members were there and they greeted me with open arms. Mom explained to me that Dad was sick and the doctors were trying to make him better. She took me in to see him. He was lying in a big bed, connected to many wires. Machines and sounds were buzzing and beeping around him. He didn't quite look like his normal self, but his smile when he saw me reassured me he was Dad. He gave me a hug and told me he loved me. "I love you too, Daddy!"
As I went back into the hall, a male nurse looked me in the eyes and said, "Don't you worry. I promise I will get your Dad back to you safe and sound."
Mom and Dad were taken by ambulance that afternoon from Charlottetown, PEI, Canada, to one of our neighboring provinces, Halifax, Nova Scotia. A snowy path, a ferry boat ride, and over four hours of driving later, they arrived for the night. I got a goodnight phone call from my Mom and she assured me she would see me very soon.
The next day, as we pulled onto our road, I saw some cars parked outside our house. I assumed that everyone must be there to welcome Dad back home. I went into the house and saw many familiar faces. In my mom's eyes, I saw the glow from the Christmas tree lights and her love for me. As she wrapped her arms around me, I immediately knew something was wrong. She didn't even have to say a word, I already knew. My dad had died. A seemingly healthy 41-old-man passed away from an aortic dissection on December 19, 1995. I was 7 years old.
How did this happen? Everything was fine. Dad was a healthy, hardworking father, son, husband, brother, uncle, and business owner. Shoveling snow and sudden chest pain brought on the worst day of our lives. And what caused this?
As the months passed, the hospital became our second home. Endless doctors, endless visits, measurements, and tests. Finally, in the spring of 1996, we had some answers. Marfan syndrome, a genetic connective tissue disorder. My uncle, my grandmother, my cousin, and I were all diagnosed. What was this foreign condition affecting our family? How come we didn't know anything about it? And what did this mean for our future?
That was 22 years ago. Life hasn't always been easy. Research and information have come so far and the support from the community and hospitals in our tiny province in Canada has expanded. As I sit here today as a 30-year-old adult, I know things could be a lot worse, but they could also be a lot better. I miss my father every single day. But without that unfortunate day in 1995, where would my life be? I have an amazing family, supportive friends, doctors who I trust, and a guardian angel who I know has my heart in hands. If sharing my story helps even one person with coping or diagnosis, then I know I have made a difference.
---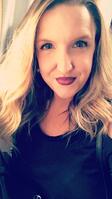 Kacey is an orthopedic nurse from Prince Edward Island, Canada. She values friendship, family, and writing. Kacey lives with her boyfriend and three pets. She is in the Marfan Writing Group and hopes to continue to spread awareness of Marfan syndrome.
---