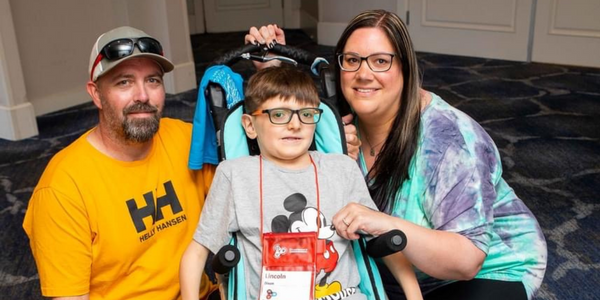 A Marfan Awareness Month Blog Q&A
There are many ways to spread Marfan awareness and one mom in our community does it regularly through social media. Pamela's posts contain a mix of humor with serious messages, combining comfort with education and letting others in our community know they are not alone.
What is your connection to Marfan syndrome?
My youngest son, Lincoln, was born with neonatal Marfan syndrome. He is now six years old. When Lincoln was born, I was told he had long fingers and that he would be an amazing piano player, but as time went on, more noticeable features started to show. I was asked by a physiotherapist if I had ever heard of Marfan syndrome. I immediately researched it online, and I knew in my heart he had this condition. I immediately advocated for an echo and genetics, and he was clinically diagnosed at six months old.
What made you want to become involved with the Foundation?
I heard about the Foundation from social media when I was doing my own personal research on Marfan syndrome before my son was diagnosed. Early diagnosis is key. I've been an advocate for children and pushed for a diagnosis very early on. Learning and spreading awareness about this condition can save lives. It's been a journey, but I know now I can help people who were in my shoes six years ago.
Is there a Foundation event that has impacted your family?
The conference is everything to us. I've met some amazing friends through this community and think of them as family. It's a connection like no other. We just all "get it" because we've all been through it. We live in Canada and don't know many people here with this condition so the conference means so much to us. Lincoln loves it too. As he gets older, he will also have that connection with other children. He's met other kids his age with Marfan and that's a pretty amazing friendship to have.
How have you spread awareness about Marfan syndrome?
I spread awareness on a daily basis to anyone and everyone about my son's rare condition. I post on social media daily, and I talk continuously about his condition to others to spread awareness. Most people like myself six years ago have never heard of Marfan syndrome.
What has been the response from others on your social media?
I have had many new moms reach out to me for advice. I was once in their shoes, and it feels amazing to help others and support them in this scary and difficult journey.
Why do you think spreading awareness is important?
Spreading awareness can save lives pure and simple.
Discover ways you can lend your time and talents to spread Marfan awareness at Get Involved – Marfan Foundation.
---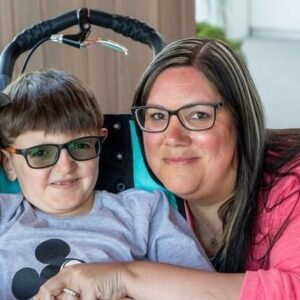 Pamela lives with her husband, Scott, in Surrey, BC Canada. They also have a 15-year-old son, Marcus, who does not have Marfan syndrome. Pamela works as a support worker with children.
---